About
Father Nature Landscapes is committed to cultivating growth—in passion, in servitude and in family provision—and is devoted to being a really great place to work while developing a mastery of the many disciplines within the landscaping trade.
Our Process
Design Consultation We visit your property and dream with you. We'll discuss your design and outdoor living goals, then follow-up with a landscape design, if you opt to use our design services.
Proposal & Contract With a design agreed upon, we'll present a comprehensive proposal for landscape construction. If you want to proceed, a contract will be signed and first payment given.
Build, Plant & Install We create the yard of your dreams, providing amazing service, proactive project management, and clear communication throughout the landscape construction process.
Final Walk Through We walk you through the amazing work that has been completed for you, correct anything that doesn't meet agreed upon expectations, and collect your final payment.
Our Services
When it comes to creating amazing outdoor spaces Father Nature is a one-stop shop.
Creating a beautiful landscape takes numerous steps, and has many moving parts. In most cases, you might have to work with several different companies to create the stunning outdoor spaces you want. But not if you work with Father Nature. We do it all, and we do it right — on time, within budget, and way beyond expectations.
Landscape design
Landscape construction
Hardscape construction
Outdoor kitchens and living rooms
Outdoor lighting and irrigation
Outdoor furniture and accessories
Retaining walls and seating walls
Water feature installation
Decks, pergolas, gates, and fences
Sidewalks, driveways, and motorcourts
Our service is our most important service
At Father Nature, we want every client to be a repeat customer. And we do this by providing the highest level of service in the business. Every single day.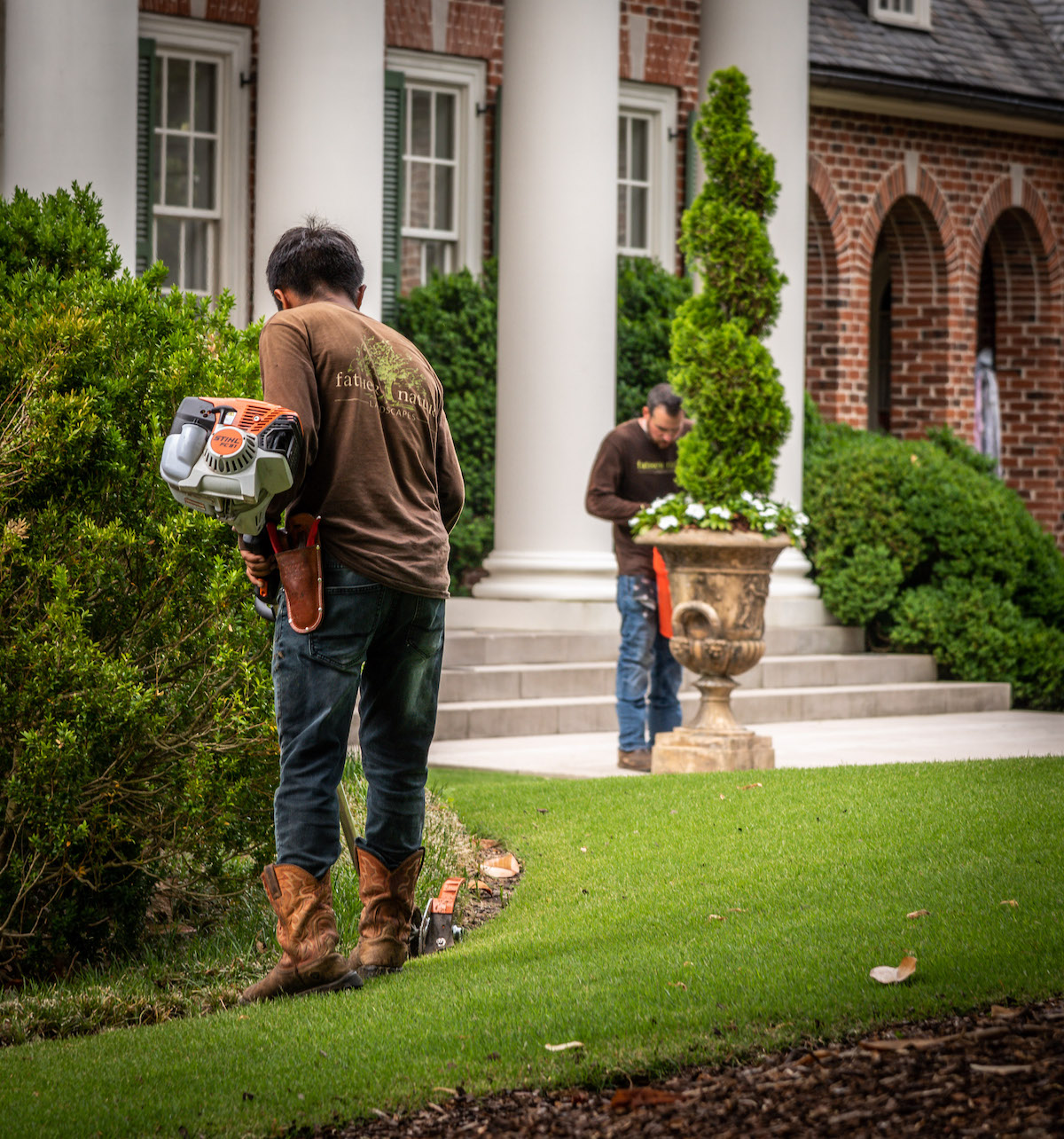 Our Mission
Our hope is to provide spiritual and mental growth, professional learning, and skill-building for every employee at our company. We want each individual who comes into our environment to be inspired and, when the time comes, leave with additional knowledge they gained during their time with us.
We are committed to helping people create their story, and an emotional connection between life and land. The Father Nature Team relies on each other heavily in order for this process to take place. Our lives evolve each day, but we will stay true to ourselves, our mission, and our story. All while working toward the ultimate goal of helping each of our clients redefine how they experience outdoor living.
Our Values
Integrity: doing what is right when no one is watching
Passion: loving life, people, what we do
Growth: spiritual, personal, professional, relational
Team: leveraging our talents to maximize potential
Serve: giving back to our clients, teammates, and community
Value: through quality, creativity, and sustainability
Significance: leaving an impression on the land and lives encountered